Wallenberg Foundation supports research against bullying
Important research on bullying will be the result of a donation from Marcus and Amalia Wallenberg's Foundation. Stockholm University has received five million Swedish crowns for research as a result of a joint application with the organization Friends, who were granted three million to develop methods against bullying based on this research.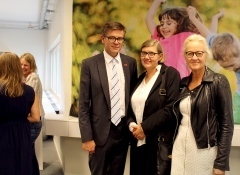 -The Department of Child and Youth Studies at Stockholm University carries out outstanding research, and Friends works with method development and education for the prevention of bullying. Together we can contribute to the expansion of knowledge in an area that concerns all of us, says Vice Chancellor Astrid Söderberg Widding.
Professor Ann-Christin Cederborg is head of research and project manager for the project on bullying, and has extensive experience of research concerning children in vulnerable conditions. Previous projects of hers include children seeking asylum, children as victims of sexual crimes or trafficking, children as perpetrators of serious crimes and children from abusive families.
Two postgraduate students employed
The project on bullying will employ two postgraduate students to carry out ethnographic research on bullying in pre-schools and primary schools over the next five years.
- The research is about how bullying emerges and is perceived by the young. The knowledge that we produce is continuously transferred to Friends, who in their turn will develop new methods for use in their educational programs against bullying. To decrease the distance between research and the people who actively work with children is a core priority for me, says professor Ann-Christin Cederborg, who has devoted her entire career to researching vulnerable children with the hope of finding a solution and thereby preventing and mitigating the causes and effect of vulnerability.
International Centre Against Bullying
The organization Friends have concurrently initiated an International Centre Against Bullying to support and educate staff from schools, pre-schools and sports associations. This centre is based on three pillars – research, education and counselling.
-To be able to spread knowledge one must first collect knowledge, and we will do both at the Friends International Centre Against Bullying says Secretary General Lars Arrhenius. The cooperation was celebrated with a grand opening on September the 18th 2013 at the Friends offices in Solna just outside Stockholm.
Originial article, Strategic partnerships, Stockholm University