Finding EU Documents
The Stockholm University Library is a European Documentation Centre (EDC) with a mission to provide and disseminate information about the EU for educational and research purposes. We help you to find the EU documents you are searching for.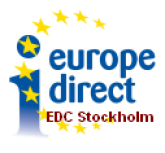 EU Information at the Library
Most EU publications can be found in electronic form through the EU portal. Literature about the EU can be found by searching the library's homepage. There is also a shelf on the entrance level of the Frescati Library with EU information.
Contact
Carolina Engfelt, EDC Librarian
Browse the categories below for guidance:
Sweden in the EU
If you have general questions about the EU or questions about your rights and opportunities in Europe, you may contact any of the following organisations for information:
Research on Europe and the EU
Research is carried out both on the EU and within the EU by universities, research institutions and government agencies. On the list below are some of the most important sources for European research.
EU Legislation
Publications
In the EU Bookshop you will find books, brochures, posters, maps and magazines on EU policies and activities dating from 1952. You can also order printed materials. Much of the material can be downloaded as a PDF free of charge.
Terms and Guides in Other languages
EU News
You can follow the EU news flow online or via social media. There are also several web magazines that focus entirely on Europe.
EU Statistics
For those looking for statistics on the EU and Europe, the database Eurostat is the most important portal. Here you will find statistics about the European Union and all its member states, EFTA-countries and EU candidate countries.