Organisation
The Stockholm University Library meets the needs of Stockholm University's researchers, teachers and students, and it contributes to the prerequisites required to engage world-class research and teaching.
The library is part of the University administration and its focus is established by Områdesövergripande rådet.
The Library Director and a management team head the work of the university library. The library has departments for Internal support and Development, and User services and Media.
Stockholm University should make strategic use of new and existing national facilities and promote a more efficient use of research infrastructure through international, national and regional collaboration. In addition, the University should further develop the internal strategy for the use and operation of international, national and local infrastructure for research, as well as the guidelines on how to identify the needs for new infrastructure. Stockholm University Library is its own infrastructure, which includes both the physical library and electronic resources. The library is essential to both scientific areas and has a nationally and internationally leading role in how data and open science are stored and made available.
Library Vision
Together we create the best conditions for scholarly communication.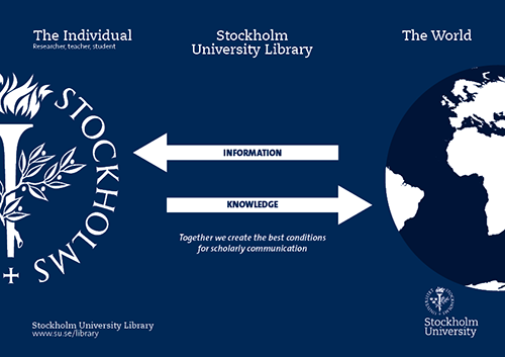 The library's business plan and report

Business plan 2018 – Stockholm University Library (70 Kb)

Annual Report 2017 – Stockholm University Library (82 Kb)